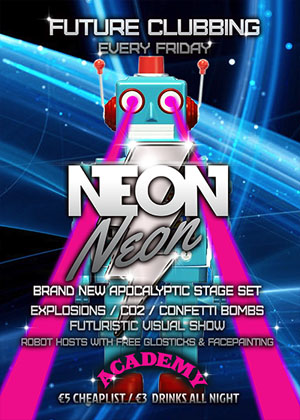 The Academy presents
NEON NEON – FUTURE CLUBBING!
Every Friday our main room will be transformed with INCREDIBLE club decor and production like nothing Dublin has witnessed!
Including PYRO, CO2, giant balloon drops and confetti cannons.
House music, decent pop and timeless floorfillers all night!
Also featuring - room 2 - THE LITTLE DISCO!
And room 3 - quality hip hop, Rn'B and grime all night.
Promos -
Bottles of beer from €3
Single Absolut & Mixer €4.50 (doubles €8)
Single Morgans & Mixer €4.50 (doubles €8)
Choc Tequila, sambuca and other shots €3
3 Jagerbombs €10
€7 on the door / €5 cheaplist or VIPSY app