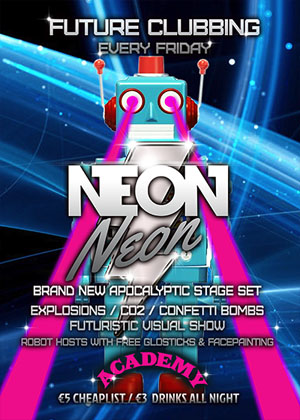 The Academy presents
NEON NEON – GET READY TO GLOW IN THE DARK!


Every Friday our main room will be transformed with INCREDIBLE club decor
and production like nothing Dublin has witnessed!
House music, decent pop and timeless floorfillers all night!
Also featuring - room 2 - THE LITTLE DISCO!
More info on DJ line up coming soon.....
FREE FACE PAINTING, GLO STICKS & NEON FLOSS
....and introducing our NEW LOOK SMOKING AREA!
Promos -
Bottles of beer from €3
Single Absolut & Mixer €4.50 (doubles €8)
Single Morgans & Mixer €4.50 (doubles €8)
Choc Tequila, sambuca and other shots €3
3 Jagerbombs €10
€7 on the door / €5 cheaplist or app.